High Quality: 12 Best Pizza Ovens Outdoors in 2023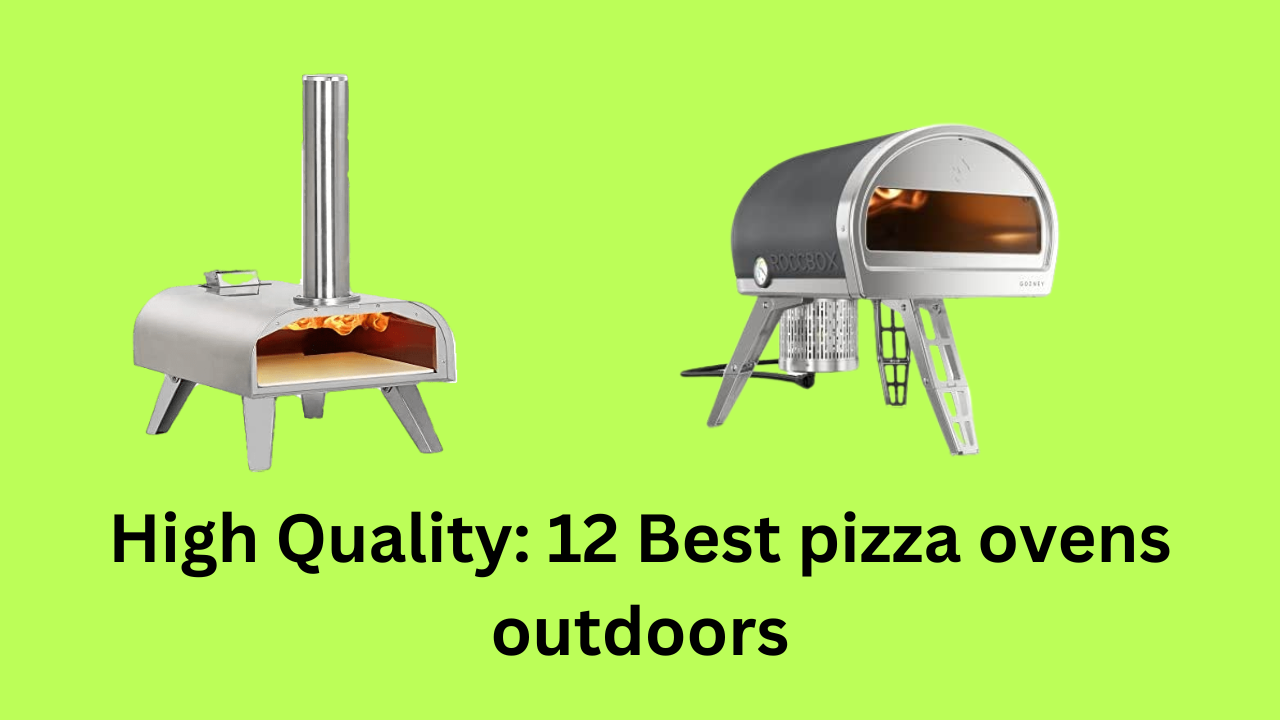 Dear reader, if you purchase through links on our site, we may earn a small affiliate commission to help support the blog - at no extra cost to you. And it never influences our product selection process. Thank you!
List of 12 pizza ovens outdoors for you to try in 2023:
There's nothing quite like the taste of a freshly-baked pizza, with its crispy crust and gooey toppings. While pizza has traditionally been associated with indoor cooking, outdoor pizza ovens have become increasingly popular in recent years. Outdoor pizza ovens offer a unique cooking experience that combines the joy of outdoor entertaining with the delicious taste of homemade pizza.
Outdoor pizza ovens come in a variety of styles, from traditional wood-fired ovens to modern gas-powered models. They can be built into an outdoor kitchen or purchased as a standalone unit. Regardless of the style, outdoor pizza ovens are designed to provide the high temperatures necessary for cooking the perfect pizza, typically between 500-900 degrees Fahrenheit.
The benefits of outdoor pizza ovens go beyond just the delicious taste of homemade pizza. Cooking outdoors allows you to entertain guests while enjoying the fresh air and beautiful scenery. Outdoor pizza ovens are also versatile and can be used to cook a variety of other dishes, such as bread, roasted vegetables, and even desserts.
In this article, we'll explore the different types of outdoor pizza ovens available, the benefits of cooking with an outdoor pizza oven, and how to choose the right oven for your needs. Whether you're a pizza aficionado or simply looking to enhance your outdoor cooking experience, an outdoor pizza oven is a great investment for any outdoor living space.
1 –BIG HORN OUTDOORS Pizza Ovens Wood Pellet Pizza Oven- Best All-around Countertop Microwave
Constructed from high-quality stainless steel, the Outdoor Ovens pellet pizza oven is both premium and safe for cooking all kinds of foods. It is a compact and robust oven that is ideal for cooking Neapolitan-style pizza, as well as other dishes such as steaks, fish, burgers, and vegetable dishes, among others. The oven heats up quickly, reaching temperatures up to 860°F (460°C) in just 18 minutes and cooks delicious pizza in just 90 seconds or less.
In addition to being a great cooking option, this pizza oven is ultra-portable and easy to assemble. It comes equipped with folding legs and requires minimal assembly without the need for any tools. It can also be quickly disassembled for easy cleaning and storage, and it weighs just 25 lbs, making it perfect for backyard or outdoor cooking events.
Using this oven is also easy, and it cooks evenly, with the pizza needing to be turned often for optimal results. For Neapolitan-style pizza, it is recommended to use little sauce and minimal toppings.
The unit's overall dimensions are 21.6"L x 14.2" W x 24"H, and the square pizza stone dimension is 12"L x 12"W.
2 – ooni Fyra 12 Wood Fired Outdoor Pizza Oven – Best Authentic Quality
Ooni Ovens lives by the motto of delivering perfect pizza to everyone, and the Ooni Fyra pizza oven is specifically designed for that purpose. This innovative oven uses a pellet hopper that automatically feeds hardwood pellets for effortless cooking, reaching a high temperature of 950°F (500°C) in just 15 minutes, allowing you to cook an authentic stone-baked Neapolitan pizza in just 60 seconds. This leaves you with more time to relax and enjoy your fantastic pizzas in your backyard.
The Ooni Fyra 12 is the successor of the world's first portable wood pellet-fueled pizza oven, the Ooni 3. The Ooni pizza ovens are now available in over 50 countries worldwide, making it a global pizza party.
The Ooni Fyra 12 is ultra-portable, weighing only 10kg, and featuring foldable legs for easy storage and transportation. This allows you to take your perfect pizza wherever you want.
The powder-coated carbon steel shell of the Ooni Fyra 12 is designed for optimal heat retention, coupled with the natural efficiency of wood pellets, resulting in an extraordinary cooking experience. This oven is ultra-efficient, with maximum burn time and minimal energy waste.
3 – ROCCBOX Pizza Oven by Gozney – Outdoor Portable – Best Affordable Option
This prep table boasts a high-quality stainless steel countertop that is rust-proof and easy to clean. It won't deform or discolour over time, making it perfect for frequent outdoor use and ensuring long service life.
With a stainless steel top that can withstand rain, wind, and sun, this prep table is designed to last. Its two wheels and two legs provide stability, making it suitable for any weather conditions or location.
Made with HDPE material, this all-weather prep table is resistant to deformation, discolouration, and shortening of lifespan due to outdoor use. It can withstand humidity and strong winds without getting mouldy, rotting, or tipping over.
This prep cart features a sturdy stainless steel top and HDPE frame, making it both durable and portable. It weighs approximately 40 pounds and comes with an attached handle, making it easy to move your grill or pizza oven across your yard.
This heavy-duty two-shelf prep cart weighs about 40 pounds, providing the necessary stability for outdoor use, while still being easy to move. With two shelves for extra storage space, it's a practical choice for any outdoor setting.
Detailed assembly instructions with well-marked diagrams and numbered screws and bolts make assembling this cart a breeze. Once assembled, you'll have a sturdy unit ready for long-term outdoor use.
This outdoor utility cart is perfect for securely holding your pizza oven, portable grill, or deep fryer on its stainless steel top. Its well-balanced weight distribution ensures it won't tip over, while the stainless steel top requires little maintenance for added convenience.
4 – Ooni Koda 16 Gas Pizza Oven – Outdoor Pizza Oven– Best Budget Option
Ooni Ovens stand by the motto "Great pizza for everyone," and the Ooni Koda 16 gas pizza oven has been meticulously designed and developed with this objective in mind.
This outdoor pizza oven is capable of reaching temperatures of up to a whopping 950°F, twice that of a typical domestic oven, allowing you to cook authentic stone-baked pizza in just 60 seconds. It takes only 15 minutes to heat up, giving you more time to sit back and relax in your backyard while enjoying delicious pizzas.
The Koda 16 is incredibly easy to use and comes ready to go straight out of the box. All you have to do is unfold the legs, insert the pizza stone baking board, connect to a propane gas tank, and you're good to go. Featuring instant gas ignition, you'll be cooking your favourite pizzas in no time. Plus, if you combine the Koda 16 with one of Ooni's cast iron cooking accessories, it becomes more than just a pizza maker – you can also roast meat, fish, or vegetables.
Ooni pizza ovens have become a popular addition to backyard and outdoor kitchens in over 50 countries worldwide. Our portable and easily stored countertop ovens are a great way to join the pizza party.
Thanks to its powder-coated carbon steel shell, the Koda 16 offers remarkable heat retention, which, combined with the efficiency and simplicity of using gas, creates an extraordinary cooking experience that can be easily controlled with a simple turn of the dial.
---
5 – aidpiza Pizza Oven Outdoor 12″ Wood Fired Pizza Ovens– Best Bang For Your Bucks
Transform your grill into a pizza-making wonderland with the Cuisinart Grill Top Pizza Oven Kit, which includes the Grill Top Pizza Oven Box and a 12″ Aluminum Pizza Peel. This kit allows you to cook delicious pizzas directly on your grill, undetectably, without needing any other appliances. The Grill Top Pizza Oven Box is designed to sit on the cooking surface of your grill and is heated by the grill's heat source, with a cordierite baking stone that retains heat for perfect crusts. The stainless steel sides of the oven provide reflective heat to the top of the pizza for evenly cooked toppings, and the temperature gauge allows you to monitor the oven's temperature during use. This versatile oven can be used to bake and roast a variety of foods, such as bread, fish, chicken, and macaroni and cheese. The included 12″ Aluminum Pizza Peel makes it easy to transfer pizzas to and from the oven, with a folding wooden handle for compact storage. The Cuisinart Grill Top Pizza Oven Kit is compatible with gas, charcoal, or pellet grills and can fit most 2-6+ burner gas grills.
---
6 – GYBER Mateo Outdoor Gas Pizza Oven 13″ Portable Rotatable Propane Stainless Steel Pizza Grill
Experience consistently deliciously baked pizza every time with the Ceramic Glazed Pizza Stone from Cuisinart. Constructed with ceramic glazed cordierite, this stone is highly durable and resistant to cracking from extreme temperatures, just like traditional cordierite pizza stones. In addition, it boasts the added benefit of allowing you to slice your pizza directly on the stone and then effortlessly clean it in the dishwasher, resulting in less mess and fewer dishes to wash. This ceramic glazed stone is an excellent addition to your at-home pizza-making routine, and it's not just limited to pizza either. It's perfect for baking bread, calzones, desserts, and much more. The stone also features a rubber grip, stainless steel scraper, 18″ length, and palm stalk fibre bristles.
---
7 – Deco Chef Outdoor Pizza Oven with 2-in-1 Pizza and Grill Oven
Experience the authentic wood-fired taste of your favorite pizza anywhere with the Deco Chef Portable Outdoor Pizza Oven! This oven is designed with an enclosed stainless steel body that disperses heat up to 950°F, ensuring that your pizza will cook to perfection in just minutes. The included baking stone allows for a crispy crust on the bottom and edges, making you a pizza pro in no time.
Not just for pizza, this outdoor oven has a 3-layer insulated body that maintains proper cooking temperatures and keeps ash off your food in winter. With the included grilling grate and drip collection tray, you can cook steaks, chicken, sausages, fish, or any other dish you can imagine in minutes, with the perfect smoke flavor.
The heating source of this 2-in-1 oven is lump charcoal or hardwood pellets (not included), which can be easily loaded into the removable fuel tray. For added flavour, you can use different flavours of hardwood pellets that are available for sale. Assembly of the oven is simple, and it can be stored when not in use, thanks to its compact size and durable all-stainless steel construction that can handle the rigours of cooking and travel.
The package includes various accessories such as a Safe Handle Oven Door, Safe Handle Removable Fuel Tray, Stainless Steel Pizza Peel, Removable Pizza/Baking Stone, Stainless Steel Dough Scraper, Stainless Steel Scoop, and Removable Stainless Steel Slotted Grill with Drip Tray. This makes it easy for you to start cooking and create memorable, mouth-watering dishes in your backyard, on camping trips, or at your next outdoor gathering.
8 – NutriChef NCPIZOVN Portable Outdoor Gas Oven-
The pizza oven boasts several features, including a unique design with foldable feet that make it easy to transport and set up. The oven comes complete with a gas burner, making it convenient to use, and has a built-in gas ignition and adjustable heat control dial for effortless cooking. The oven is made of high-grade stainless steel and has an insulated body, rolling flame, and dense stone that can cook a 12″ pizza in just one minute.
The package includes the pizza oven, a pizza stone, and a set of regulators with a 39.37″ hose. The cooking grid is made of commercial-grade cold-rolled carbon steel with a high-temperature resistant, powder-coated finish, while the forehead is made of die-cast aluminium. The feet are made of retractable aluminium with skid-proof rubbers and locks, and the inner part of the oven is made of stainless steel. The burner is also made of stainless steel.
The pizza oven has a maximum temperature of 932°F (500°C) and a cooking area of 350 x 350mm. It has a maximum power of 4.2KW, 14500 BTU, and the pizza stone measures 325 x 325 x 10mm. The hose is 1m in length, and the regulator has a 2.8kpa QCC propane regulator. The product dimensions are 25.24 x 16.14 x 12.40 inches.
9 – Pizzacraft PC6500 PizzaQue Portable Outdoor Pizza Oven
Make delicious homemade pizzas in just minutes whether you're at home or on the go with the PizzaQue Outdoor Pizza Oven. This lightweight and portable oven is safe to use on any surface and operates on propane. Simply hook it up to a tank, turn it on, preheat for 15 minutes, and you're ready to start cooking. Perfect for family pizza nights, camping, or tailgating, the PizzaQue can operate for up to 25 hours on a 20-lb. propane tank, allowing you to make over 250 pizzas. You'll never have to order delivery again thanks to this fast, easy, and delicious pizza oven.
To enhance your PizzaQue experience, several accessories are available. The Pizzacraft Pizza Oven Accessories/Folding Peel & Stone Brush – PC0217 makes transferring pizzas and cleaning your oven easier. The Pizzacraft Pizza Oven Leg Kit – PC6011 raises your oven to a comfortable height for easy access, while the Pizzacraft Pizza Oven Side Table – PC6026 provides a convenient workspace next to your oven.
Protect your oven with one of two available covers, the Pizzacraft Pizza Oven Protective Cover, Long – PC6019 or the Pizzacraft Pizza Oven Protective Cover – PC6012. For added flavour, try the Pizzacraft Pizza Oven Wood Pellet Smoker and Shovel – PC6021.
Pizzacraft guarantees 100% satisfaction and is available to address any concerns you may have.
10 – Cuisinart CGC-103 3-in-1 Pizza Oven Grill Cover,
Keep your 3-in-1 Pizza Oven Plus safe from the elements by using the 3-in-1 Pizza Oven Plus Cover. This cover is made of durable polyester material that can withstand the rigours of outdoor use. The cover is water-resistant, preventing moisture build-up that can seep through over time. It has Velcro straps inside that wrap around the base of the legs to keep it snug to your grill, even in high winds.
11 – VEVOR Outdoor Pizza Oven,
---
Experience a New Level of Baking: Are you exhausted with conventional pizza ovens that fail to deliver? Our outdoor pizza oven is the solution you've been waiting for, heating up to 1000℉/540℃ in just 20 minutes and baking a scrumptious 12-inch pizza in 90 seconds or less! Moreover, its versatility allows you to cook all sorts of meats, fish, and vegetables to perfection.
Increased Fuel Options: Our portable pizza oven is built with an efficient wood burner, and you have the option of using wood pellets, wood chips, or charcoal as fuel. Opt for wood to get an authentic flame-cooked flavour or charcoal for a slow, steady burn. You'll need to refill it less frequently thanks to its large 480 g fuel tray.
Long-Lasting Heat Retention for Enhanced Taste: This outdoor pizza oven is made with a 430 stainless steel inner frame and cold-rolled sheet shell, ensuring high quality. Its two-layer thermal insulation structure provides superior heat preservation, allowing you to savour your food in no time.
Conveniently Portable Outdoor Oven: This pizza oven is lightweight at 21.2 lbs, making it easy to transport to your backyard, campsite, beach, or any outdoor gathering. Its foldable legs make it even more compact, and we've included a wood pellets shovel and a carry bag for added convenience.
Becoming a Chef has Never Been Easier: This outdoor pizza oven is ready to use straight out of the box! Just fill the fuel tray with wood pellets, ignite a fire, slide in the pizza, turn it over occasionally, and savour delicious stone-baked pizza. Cooking outside with our portable outdoor pizza oven has never been simpler.
12 – Razorri Comodo Outdoor Gas Pizza Oven Stainless Steel,
Experience Lightning-Fast Pizzas: Skip the delivery wait and enjoy piping hot pizzas in just 10 minutes with our oven, which can reach up to 650℉. When used with the included 12.6-inch pizza stone, you can have a homemade pizza cooked in as little as five minutes!
Multifunctional Oven: This oven's versatility doesn't end at pizzas. By removing the pizza stone, it can be transformed into a portable barbecue grill, making it the ideal multipurpose grill for outdoor gatherings and picnics.
Compact and Portable: Unlike other pizza ovens, this space-saving model is lighter and smaller, making it easy to transport. Fueled by propane (1-20 lb), it can fit easily into your trunk, allowing you to enjoy delicious fresh pizza and barbecue with friends anywhere.
Effortless Assembly: Assembly is a breeze, with most of the parts already pre-assembled. Simply install the four legs and three handles, hook up the included hose (compatible with QCC1/Type 1), and you're ready to start cooking! Additionally, a flame tamer is included to prevent the food from being overcooked.
Precise Control: Burner knobs offer easy flame control, and the built-in thermometer allows you to monitor the oven's internal temperature without opening the lid and losing heat. This built-in thermometer makes it easy to check the interior temperature accurately.
More details if you want buy pizza ovens outdoors
When it comes to making pizza at home, having the right equipment can make all the difference. An outdoor pizza oven allows you to reach the high temperatures needed to cook authentic wood-fired pizza, with crispy crust and melted cheese. With so many options on the market, choosing the best outdoor pizza oven for your needs takes some consideration.
The first factor to think about is what fuel source you want to use. Most outdoor pizza ovens are powered by wood, gas, or charcoal. Wood-fired ovens can reach the highest temperatures, up to 900°F, and impart a delicious smoky flavor. However, they require more cleanup and maintenance. Gas ovens heat up quickly and offer more convenient temperature control. Charcoal ovens are very versatile and can use either lump charcoal or wood.
Another key consideration is the size and portability of the oven. Built-in brick ovens are permanent installations that hold heat well but lack portability. Freestanding stainless steel ovens are movable but can be heavy. Compact portable ovens like the Ooni Koda are lightweight and easy to set up in your backyard or take camping. Just be aware that smaller ovens may not fit larger pizzas.
The oven's maximum temperature is crucial for properly cooking Neapolitan-style pizzas in under 90 seconds. Look for ovens that can reach at least 700°F. Higher heat helps bake the crust quickly before drying out the toppings. Dual fuel ovens like the Ooni Karu provide the option of switching between wood and charcoal as needed.
Be sure to account for prep space. Large outdoor pizza ovens allow room for ingredients and tools like a pizza peel. Check that there is enough clearance from combustible surfaces. Built-in thermometers help monitor the internal temperature. And thick ceramic pizza stones evenly distribute heat for crispy crusts.
Here are some top-rated outdoor pizza ovens to consider:
Ooni Koda 16 – A portable propane oven that heats up in just 15 minutes to over 950°F. Makes 16" pizzas.
Gozney Roccbox – A compact dual fuel oven reaching over 900°F. Easy to transport with a built-in thermometer.
Ooni Karu – A multifuel oven using wood or charcoal to reach over 950°F. Intuitive airflow controls.
Bertello – An affordable and lightweight gas oven that can hit over 800°F. Great for personal pizzas.
Solo Stove Pi – A portable wood fire and propane powered oven perfect for backyards. Reaches over 800°F.
No matter which outdoor pizza oven you choose, following proper seasoning and setup will ensure you can bake incredible pizza creations at home. Allow enough time for the oven to fully preheat before cooking. Use an infrared thermometer to gauge the temperature. And invest in high-quality pizza peels and ingredients. With the right techniques and tools, your backyard pizza parties will be a huge hit!
Best pizza ovens outdoors comparison table
Final thought
Outdoor pizza ovens provide a fun and versatile way to cook delicious meals for family and friends. With their efficient heating mechanisms and high temperatures, you can make authentic, stone-baked pizzas in just a matter of minutes. Additionally, many models have multifunctional capabilities, allowing you to cook a variety of meats, fish, and vegetables. Whether you're hosting a backyard party, camping trip, or beach gathering, a portable pizza oven is a great addition to your outdoor cooking setup. So why wait for delivery? Bake like never before and enjoy the mouth-watering taste of homemade pizza with an outdoor pizza oven.
FAQs about the 12 Best pizza ovens outdoors in 2023